Jesus said to them, "Very truly I tell you, it is not Moses who has given you the bread from heaven, but it is my Father who gives you the true bread from heaven. For the bread of God is the bread that comes down from heaven and gives life to the world."
"Sir," they said, "always give us this bread."
Then Jesus declared, "I am the bread of life. Whoever comes to me will never go hungry, and whoever believes in me will never be thirsty. But as I told you, you have seen me and still you do not believe. All those the Father gives me will come to me, and whoever comes to me I will never drive away. For I have come down from heaven not to do my will but to do the will of him who sent me. And this is the will of him who sent me, that I shall lose none of all those he has given me, but raise them up at the last day. For my Father's will is that everyone who looks to the Son and believes in him shall have eternal life, and I will raise them up at the last day." (John 6.30-40)
Jesus fed 5000 with next to nothing. He walked on water and calmed the wind and waves. And He already had a reputation... so all those people who couldn't walk on water still followed Him to the other side of the sea, and there, they began to ask Him questions. They wanted to know how to please God...
God's Word tells us that He likes for men and women to seek after Him. That appeared to be what this crowd is doing. But they didn't seem to like or want to agree with the things He said. Their hearts did not seem to be teachable and inclined to learn.
What gives me this impression? This crowd does the same thing my kids often do when I answer their questions... or when I tell them what they can do to please me. They start trying to figure out a way around... something different... something that they like better or that makes more sense to them... or just something that they decide, their own way rather than submitting to authority. They aren't intent on listening and they aren't content to accept and obey but would rather debate and tell me all the problems they see with what I've just said. Instead of looking for how they can please and obey, they are trying to figure out a way out.
Look at how the people respond after Jesus says that belief in the One He sent is what pleases God: "What sign then will you give that we may see it and believe you? What will You do?"
I think, implied in this statement, was the idea that the Israelites followed Moses because he fed them... And they'd followed Jesus across the sea because He'd fed them. He is showing them that their motive is not a spiritual searching. Rather, they wanted full bellies with little or no effort on their part. So Jesus reminds the people that Moses wasn't the provider - that God was and that He still is.
The people respond ~
They did have one thing right. Bread from heaven is a necessary thing... but not for the reasons they were expecting and not provided in the manner they expected.
And that's what Jesus explains to them next.
That's when He makes the very radical statement, "I am the Bread of Life."
**********************************************
These few verses have me asking myself what "every whens" I'm insisting Jesus meet or fill or satisfy... at my whim and at my demand.
How about you?
this week's grat
itude list
(#'s 4082 - 4103)
time at the fair with the family
time at the fair with just the littles
visiting family to the north
visiting family to the south
a very challenging and thought provoking discussion @ a life overseas
coffee with a friend I rarely get to see
another friend feeling better
deciding on an exercise program
the beginning of volleyball practice for my girlies
impromptu-like deciding to watch a softball game
garden fresh veggies
elephant ears at the fair
"free?" corn dogs at the fair
hotel reservations made for my trek to PA with my boy
5 in the bed snuggling one morning this week
a video that reminded me all about why gratefulness for God's infinite graciousness is so life changing
a book arriving in the mail that I can't wait to read
Wednesday night prayer meeting/Bible study
watching her stretch herself as she applies for jobs
another girlie starting her first job
watching him begin to get ready for his written driver's test
little one asking questions about Jesus interspersed with questions about assorted superheroes and getting to explain why Jesus is so much better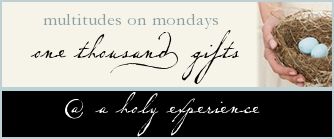 Ten most recent posts in this series:
Click
here
for all of the titles and their corresponding links in the Encountering Jesus series.