This was one of those Bible studies that I taught that I'll never forget!
It was a sweet time with great discussions... although we started, stopped, started again, stopped... and started one last time (thankfully) until we finished - because of a sand storm that blew in off the desert. The guard for the church property had left to buy feed the animals, so we were stuck sitting outside (although we did find a more sheltered spot), trying to study, speak, listen and learn, all the while the storm blew through. I was still shaking sand out of my Bible, weeks later!
The feeding of the 5000, in John 6, is a significant miracle. It is recounted in all four Gospels. The only other Jesus-story included in all four is His death and resurrection... So it is definitely worth a bit of time studying, meditating and praying through this passage ~
"After these things Jesus went over the sea of Galilee, which is the sea of Tiberias. And a great multitude followed him, because they saw his miracles which he did on them that were diseased. And Jesus went up into a mountain, and there he sat with his disciples. And the Passover, a feast of the Jews, was nigh. When Jesus then lifted up his eyes, and saw a great company come unto him, he saith unto Philip, 'Whence shall we buy bread, that these may eat?' And this he said to prove him: for he himself knew what he would do. Philip answered him, 'Two hundred pennyworth of bread is not sufficient for them, that every one of them may take a little.' One of his disciples, Andrew, Simon Peter's brother, saith unto him, 'There is a lad here, which hath five barley loaves, and two small fishes: but what are they among so many?' And Jesus said, 'Make the men sit down. Now there was much grass in the place.' So the men sat down, in number about five thousand. And Jesus took the loaves; and when he had given thanks, he distributed to the disciples, and the disciples to them that were set down; and likewise of the fishes as much as they would. When they were filled, he said unto his disciples, 'Gather up the fragments that remain, that nothing be lost.' Therefore they gathered them together, and filled twelve baskets with the fragments of the five barley loaves, which remained over and above unto them that had eaten. Then those men, when they had seen the miracle that Jesus did, said, 'This is of a truth that prophet that should come into the world.' When Jesus therefore perceived that they would come and take him by force, to make him a king, he departed again into a mountain himself alone." (John 6:1-15, KJV)
As I already noted, this is the only one of Jesus' miracles that is recorded four different times in the Bible (Matt 14, Mark 6, Luke 7 and John 6). That makes me think it reveals some pretty important information about Jesus. I've heard many sermons on this, heard it taught in Sunday school... I even think there is a song or two about this miracle. This was, however, the first time that I studied it in depth, meditating on it for several weeks before I prepared the original study... meditating on it again before I rewrote this blog post.
Most scholars figure that about 6 months had passed since the confrontation with the chief Jews in John 5. During that 6 months, Jesus had sent out his disciples 2 by 2 and they had performed great miracles and wonders by the power of his name. John the Baptist had also been beheaded. The disciples had now returned and one theory is that Jesus was trying to escape from the crowds for a few moments - to celebrate and debrief as well as to mourn together with his closest friends and associates.
But the crowds followed them... because of the incredible things Jesus had done. Night begins to fall and the disciples find themselves in an isolated and possibly less than familiar spot with many thousands of people who will soon be getting quite hungry. In one of the other accounts, it says that they approached Jesus and asked him to send the people away in time for them to find a meal.
This is the part that keeps capturing my thoughts. I completely understand why the disciples wanted Jesus to send the people away. They were tired - not long returned from an exhilarating but exhausting time of ministry - they didn't have the wherewithal to figure out how to provide for such a great crowd - yet they knew that very soon, these people were going to want to have a very real need met. The disciples could have simply gone out into the crowd themselves and starting pointing people in another direction... but they didn't. Instead, they asked the Lord to send them on their way.
Quite frankly, that is where I've been for the last several months. People come to us all the time while we are in Niger... needing... wanting... asking... searching... and I get tired, very busy, a little afraid about the upcoming changes for our family, and just tired from the heat, the grind and the WAWA (West Africa Wins Again) moments of daily life in this country. In my heart, I plead with the Lord for a break... to just keep folks away and let me take care of packing, of kids grieving the loss of pets and the only home some of them remember, finishing up last minute projects, and wondering about instability where there has most recently has been very little... It seems like way too much too try and handle, so my tendency is to spend much of my prayer time just asking God to make it diminish... or even better... go away!
Jesus, however, takes the situation and turns it back on the disciples (and me) - testing them - and I've been wondering if this wasn't part of their "debriefing." For Jesus knew all along what he planned to do; He asked the disciples a single question: "Where can we buy bread to feed all these people?"
I wonder why he didn't ask a different question: "How are we going to feed all of these people?" or "Do you think we should provide a meal for everyone?" Instead, he knew there would be a meal - he asked his disciples where to find the necessary resources to do so.
Philip responds first, essentially saying, "We can't. There just isn't sufficient money." Andrew, who has been searching about on his own for a solution, then pops up and says "Well, this is what we have to give, but there is no way it will suffice." The Bible does not give Jesus' response, but I wonder what he was thinking. I wonder if He was discouraged - that the disciples had still not learned that He IS the need supplier, that He only asks us to give what He asks and nothing more or less, leaving Him to do the multiplying work.
I identify with the disciples so clearly at this moment. I wish He'd just send them all away so I could have some time with Him, some time to rest and prepare for the next big thing on my agenda. When will I learn ~ my agenda isn't His. People are wanting to be fed, needing to be served... I know there is no way in the world, especially in a place like Niger, that I could even begin to meet the basic needs of even just my neighbors in our little corner of Niamey. Even beginning to contemplate such a thought is overwhelming... and I tell Jesus, "Sorry, Lord. I'm spent." Or, I dig around and rustle up a few resources that I feel I can contribute, but offer it sheepishly to God saying, "Um, here's what I've got... but it ain't gonna go very far in this situation."
This reminded me of another occasion in Scripture: Moses was leading the Israelites through the desert and they began to demand more to eat than just the manna. It was clearly a situation beyond Moses' power and ability to provide. What did Moses do? He cried out to God. What did God do? God provided meat.
I wish we were sitting together so that I could ask you: "What do you think Jesus might have thought about the disciples responses?"
His question had clearly stumped them - I'm not sure if that is because they aren't used to wondering what Jesus might have been thinking or if it is because no response is recorded in God's Word. Jesus simply takes the meager resources that Andrew has located, given by a young boy in the crowd (one who wasn't even counted by men's standards, as the biblical account tells us that there were 5000 men present), blesses those 5 loaves and two fish - and lavishes extravagantly the people with what they most need at that moment.
What would have been the proper response? Two verses come to mind:
"Then he answered and spake unto me, saying, This is the word of the Lord unto Zerubbabel, saying, Not by might, nor by power, but by my spirit, saith the Lord of hosts." (Zech 4:6, KJV) and

"Not that I speak in respect of want: for I have learned, in whatsoever state I am, therewith to be content. I know both how to be abased, and I know how to abound: every where and in all things I am instructed both to be full and to be hungry, both to abound and to suffer need. I can do all things through Christ which strengtheneth me." (Phil 4:11-13, KJV)
The wild part? There were 12 baskets... one for each disciple... remaining...
Thus, lessons I've learned from this passage include:
My immediate, natural human response when I come to my end (resources, ideas, things to say, things to give, things to do...) is to ask Jesus to send the searchers away.

Yet Jesus just might take that request and turn it around to test me, particularly if I've come from a mountain-top experience where I'm tempted to think that service in my own strength is effective, to see how much I've really learned to depend on him by telling me "You give to them."

Unfortunately, my most common reaction to this command is to say, "I've nothing left," or "What I've got could never suffice."

A better response would be, "Lord, you've asked me to meet these needs, but I can't. I need you, your strength, your blessing because I've come to the end of myself."

God can use my service and sharing, turn it around and bless and provide for me or my family.
this week's grat
itude list
(#'s 3905 - 3937)
Scotland
safety as we've traveled by plane, car, boat
windy beaches
green fields
fields of rapeseed
gorse bushes
field bluebells in blue, pink and white
island horseback rides
old friends
new friends
camper vans to hide from the midge flies
campfires
hot showers and bathrooms at a campground
clean hotel rooms
soft beds
electricity - continuous
cold weather
hobbit houses
warm blankets
bags of sea shell treasures
exploring castles
Scottish brogues
McDonalds
flannel shirts
internet in the Scottish Highlands
a brand new wool sweater
bagpipe music
listening to BBC dramas as we drive
mocha frappes
actually seeing some church parking lots full as we drove last weekend
warm Scottish crofts and hospitable friends
the beauty of the Orkney Islands
learning fascinating details about Scottish history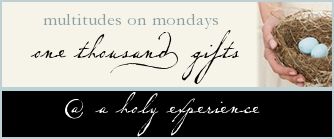 Ten most recent posts in this series:
Click
here
for all of the titles and their corresponding links in the Encountering Jesus series.