Jesus answered her, "If you knew the gift of God and who it is that asks you for a drink, you would have asked him and he would have given you living water."




"Sir," the woman said, "you have nothing to draw with and the well is deep. Where can you get this living water? re you greater than our father Jacob, who gave us the well and drank from it himself, as did also his sons and his livestock?"




Jesus answered, "Everyone who drinks this water will be thirsty again, but whoever drinks the water I give them will never thirst. Indeed, the water I give them will become in them a spring of water welling up to eternal life."




The woman said to him, "Sir, give me this water so that I won't get thirsty and have to keep coming here to draw water."




He told her, "Go, call your husband and come back."




"I have no husband," she replied.




Jesus said to her, "You are right when you say you have no husband. The fact is, you have had five husbands, and the man you now have is not your husband. What you have just said is quite true."




"Sir," the woman said, "I can see that you are a prophet. Our ancestors worshiped on this mountain, but you Jews claim that the place where we must worship is in Jerusalem."




"Woman," Jesus replied, "believe me, a time is coming when you will worship the Father neither on this mountain nor in Jerusalem. You Samaritans worship what you do not know; we worship what we do know, for salvation is from the Jews. Yet a time is coming and has now come when the true worshipers will worship the Father in the Spirit and in truth, for they are the kind of worshipers the Father seeks. God is spirit, and his worshipers must worship in the Spirit and in truth."




The woman said, "I know that Messiah" (called Christ) "is coming. When he comes, he will explain everything to us."




Then Jesus declared, "I, the one speaking to you—I am he."




Just then his disciples returned and were surprised to find him talking with a woman. But no one asked, "What do you want?" or "Why are you talking with her?"




Then, leaving her water jar, the woman went back to the town and said to the people, "Come, see a man who told me everything I ever did. Could this be the Messiah?" They came out of the town and made their way toward him.




Meanwhile his disciples urged him, "Rabbi, eat something."




But he said to them, "I have food to eat that you know nothing about."




Then his disciples said to each other, "Could someone have brought him food?"




"My food," said Jesus, "is to do the will of him who sent me and to finish his work. Don't you have a saying, 'It's still four months until harvest'? I tell you, open your eyes and look at the fields! They are ripe for harvest. Even now the one who reaps draws a wage and harvests a crop for eternal life, so that the sower and the reaper may be glad together. Thus the saying 'One sows and another reaps' is true. I sent you to reap what you have not worked for. Others have done the hard work, and you have reaped the benefits of their labor."




Many of the Samaritans from that town believed in him because of the woman's testimony, "He told me everything I ever did." So when the Samaritans came to him, they urged him to stay with them, and he stayed two days. And because of his words many more became believers.




They said to the woman, "We no longer believe just because of what you said; now we have heard for ourselves, and we know that this man really is the Savior of the world."

(John 4.11-42)
"I... am He."

It was... IS... a nothing-short-of-amazing statement and He made it to a woman, alone... a woman, fallen... a woman, shunned... a woman, an outsider among outsiders.

This passage contains several beautiful "I" statements by Christ. Often, when He spoke with people, He spoke in parables and often the meaning was not obviously clear and He had to give further explanation.In this conversation, however, He neither only vaguely allude nor hid Who He was and why He had come. In this particular conversation, He says quite directly and quite clearly that He is the gift of God, the Messiah, the One who stops our thirsting for things that don't ultimately satisfy...
Jesus confronts this woman with her sin and reveals to her what she already knew, but probably tried desperately to keep hidden, or only minimally seen, from the rest of the world - that she was a broken vessel with many cracks, holes and imperfections. But He did so in a way that must have been gentle and not condemning, for she did not deny the truth; instead, it revealed to her that He was the One - the One who could pick up the pieces of her life and put them all back together in a way that would make sense and give purpose, hope and a future.
He was not just the promised deliverer of the Jewish nation. He offered the promise of personal, individual deliverance to a woman nobody else would have ever considered worthy.
I love that this Jesus encounter, for me, has this time fallen on Easter weekend... Last Friday, I meditated on the story of an alabaster jar broken and spilled out, of feet cleansed with fragrant oil, tears and a woman's hair. And the thought from which I could not escape was how in this world of untold brokenness, but where admitting that brokenness is so often seen as a bad, disqualifying or humiliating thing. Yet in Jesus, to be... "broken and spilled out? That is totally a God-thing. He makes beautiful things out of the dust, He makes complete that which is unfinished, He [anchors] those that are willing to confess and trust their brokenness to Him."
Then, at the Easter Sunrise service, the preacher considered some of Jesus' "I am" statements... to Mary right before He raised Lazarus from the dead... on the cross when He begged for a drink... and then as He commission His disciples and promised His Presence with them always. One of the key points of that sermon was the miracle that Jesus would actually allow Himself to be in a place where He'd have to "beg" for a drink, His last drink, from the very ones killing Him as He hung dying on that cross - and an emphasis on just how distorted, confused, undeserving and broken all mankind is.
I'm even reading a book (highly recommended by my boy) that deals with just how distorted, confused, undeserving and broken all mankind is... How horrible and terminal all life would be without His restraining influence in this world.
It can't be coincidence, can it, when God brings so many things together all at one. He must have something He's trying to impress into this hard head and sometimes harder heart.
There's so many potential things, so much to study and so much depth to this Jesus encounter:
Jesus, as a man, had to choose to listen to the leading of the Holy Spirit to follow the direction of His Father. I am to do likewise.
While the Jews had several reasons, some good, to avoid contact with the Samaritans, Jesus did not. I can find those with whom I'd rather not mix. Something makes me uncomfortable - or simply less comfortable. Being with that person requires so much more work. I see this here among some of the different tribal groups or positional rankings of people, even within the church. I see it at the international school where I teach. I experience it myself with the people I meet here in Niger. When I choose to separate myself from someone, I'd best be sure that it is only after clear discernment from the Lord, not due to forgiveness I'm refusing to offer, grudges I'm refusing to release, comfort I'm refusing to forego or convenience I'm refusing to sacrifice. My guess is I have many more reasons to work on building bridges with those around me... rather than burning them.
Jesus was tired, but He did not use that as an excuse not to minister. Regardless of how He felt, He remained open to the prompting of the Holy Spirit.
The Samaritan woman was precious in God's eyes - and He went to amazing lengths to offer her His salvation. She allowed Him to piece her back together and she became a vessel spilling out grace and good news - not just through the spout, but through all the cracks and breaks and broken places as well. Every day, He offers that opportunity to me, too.
Those "I am" statements tell me a lot about Jesus: He gives and He gives; He is the Messiah for the world, for His people, and for me; He has a sustenance that I cannot understand or even truly know about... He is above and beyond me and not dependent on me; He tells and He sends... me. Now, what about my corresponding I-statements? Will I receive? Will I believe and trust and believe some more so I can trust some more...? Will I stumble or become confounded by those things about Him that I cannot grasp, cannot know? Will I listen to what He says, and will I truly hear? Will I go where and when He sends? The Samaritan woman encountered Jesus and her answers all became "Yes!"
Jesus encounters do that, don't they.
The real ones leave me saying "Yes," regardless of the circumstances or the costs.
-edited post from the archives;
this week's gratitude list
(#'s 3667 - 3690)
He is risen!
He is risen indeed!
another prayer letter written and in the process of being sent
really cute Easter doughnuts that Nadia helped me make
the coolest Easter Sunday I've EVER experienced in Niger (I was actually wishing I had a shawl while sitting out by the river early Sunday morning)
two weeks of vacation - and still mostly half of that before us
a new exercise plan to try - working out in this sort of heat is always a challenge
Tim's work "plotting" out our Scottish trek
watching The Hobbit and Les Mis
another try and beef bourguignon... it may become our Easter tradition... except Tim was adamant it can't be an only once a year thing
little girls snuggled together on my bed, sleeping in
lots of leisurely time to work on home school stuff with kiddos
afternoon after afternoon after afternoon at the pool
clouds in the sky
a challenging Easter sermon

looking forward to hearing at least a couple of the sermons from missions conference from our sending church
Easter Monday is a holiday in Niger... which means offices are closed
following basketball tournaments from afar
giggly girls and spray bottles
mostly enough food hanging around in the house that no grocery shopping will be needed for another two days
actually sitting down and reading a good book... I have to make time to do so these days and that isn't always easy so it is always a treat
watching the kiddos plug away at their on line classes
squeals of delight when they find something they've been looking for for a really long time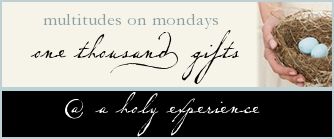 Ten most recent posts in this series:
Click
here
for all of the titles and their corresponding links in the Encountering Jesus series.