Now John also was baptizing at Aenon near Salim, because there was plenty of water, and people were constantly coming to be baptized. (This was before John was put in prison.) An argument developed between some of John's disciples and a certain Jew over the matter of ceremonial washing. They came to John and said to him, "Rabbi, that man who was with you on the other side of the Jordan—the one you testified about—well, he is baptizing, and everyone is going to him."
To this John replied, "A man can receive only what is given him from heaven. You yourselves can testify that I said, 'I am not the Christ but am sent ahead of him.' The bride belongs to the bridegroom. The friend who attends the bridegroom waits and listens for him, and is full of joy when he hears the bridegroom's voice. That joy is mine, and it is now complete. He must become greater; I must become less."
"The one who comes from above is above all; the one who is from the earth belongs to the earth and speaks as one from the earth. The one who comes from heaven is above all. He testifies to what he has seen and heard, but no one accepts his testimony. The man who has accepted it has certified that God is truthful. For the one whom God has sent speaks the words of God, for God gives the Spirit without limit. The Father loves the Son and has placed everything in his hands. Whoever believes in the Son has eternal life, but whoever rejects the Son will not see life, for God's wrath remains on him."

(John 3.23-36)
John the Baptist encountered Jesus earlier; this meeting is described in the first chapter of John. There may have been other times, many more encounters not listed in the Bible - after all, they were cousins and their mothers had clearly spent a special time together while awaiting the birth of their respective children. Yet John 1 describes a face to face encounter between the two men - significant for both of them. In these verses from chapter 3 of the same book, we see more of that impact, as summed up in the following quote:
A good teacher like John the Baptist,
clears the way,
declares the way,
and then gets out of the way.
—Derek Prime & Alistair Begg
I don't think I'm reaching for straws when I say that the bolded words above are often the focal point of this passage when most teach from it or discuss it. I found it not a coincidence, and in fact very confirming, that the Lord was impressing this same general lesson upon my heart in another way, from another direction this week. Here's the proof - as I shared today at a life overseas: the missions conversation.
*************************************
What lesson has God been impressing upon your heart these days?
this week's gratitude list
(#'s 3590 - 3618)
clouds
afternoons at the swimming pool
lots of dancing and fun the other night
cold cokes and refreshing lemonades
a really cool tv series from a few years back, watched and enjoyed
vehicle sold
classroom observation that went well
scholarship application in progress
getting our closet mostly cleaned out... again!
sweet friends and lovely Wednesday morning conversations
seeing my girls all dolled up for their banquet
baked chicken and mashed potatoes for Sunday dinner
donuts dipped in honey glaze
hotel reservations made
pieces of the puzzle plan dropping into place
seeing Spring Break just a few weeks ahead on the calendar
teaching and then watching them try to learn and do the "Cowgirl Twist!"
raspberries, strawberries and homemade pie crust all baked together for a heavenly combo of sweet and sour... topped with whipped cream
looking forward to a special wedding this summer - and receiving their "Save the date" with the cutest photo ever
baby goats
watching baby goats play "king of the mountain"
listening to the mama goat frantically searching for her baby goats
senior pictures taken... can't wait to see them edited
my second graders have finished writing their play based off the fable of "The Bad Kangaroo..."
now, those kiddos start working on producing that play! So much fun!
how M&M misses her big sis when she's away at school - and how Elsie Mae loves on and plays with her little sis once she's home again
dreaming about the hopeful possibility of home schooling those two together next year
Jonathan's apparent progress in the domain of speech and language - even though I really have no clue what I'm doing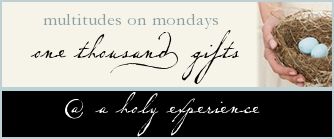 Ten most recent posts
in this series:
Click
here
for all of the titles and their corresponding links in the
Encountering Jesus
series