Over the past week, I've been studying the first "Jesus Encounter" in the Gospel of John, when John the Baptist first sees the face of his Lord.
Firsts are significant....
The Bible does record one other, earlier encounter... as babe in womb John recognized His Lord's presence. God created, gifted and burdened John with amazing discernment and a dynamic, authoritative ability to communicate truth that not even the religious leaders of that day could dispute. That calling, evidenced from his very earliest days, also reflects the discerning spirit prominent in his childhood home. Undoubtedly this encouraged his sensitivity to listening for, hearing from, understanding, and applying truth as well as communicating it to others... When John was a fetus, he "leapt in the womb" at Mary's greeting; his mother Elisabeth immediately recognized and testified to the reason why. My babies moved incessantly as I carried them, and I could rarely hazard a guess as to what prompted most of those sudden explosions. Elisabeth knew and she immediately welcomed the mother of her Lord.
John testifies concerning him. He cries out, saying, "This was he of whom I said, 'He who comes after me has surpassed me because he was before me.'" From the fullness of his grace we have all received one blessing after another. For the law was given through Moses; grace and truth came through Jesus Christ. No one has ever seen God, but God the One and Only, who is at the Father's side, has made him known.
Now this was John's testimony when the Jews of Jerusalem sent priests and Levites to ask him who he was. He did not fail to confess, but confessed freely, "I am not the Christ."
They asked him, "Then who are you? Are you Elijah?"
He said, "I am not."
"Are you the Prophet?"
He answered, "No."
Finally they said, "Who are you? Give us an answer to take back to those who sent us. What do you say about yourself?"
John replied in the words of Isaiah the prophet, "I am the voice of one calling in the desert, 'Make straight the way for the Lord.'"
Now some Pharisees who had been sent questioned him, "Why then do you baptize if you are not the Christ, nor Elijah, nor the Prophet?"
"I baptize with water," John replied, "but among you stands one you do not know. He is the one who comes after me, the thongs of whose sandals I am not worthy to untie."
This all happened at Bethany on the other side of the Jordan, where John was baptizing.
Many people recognized God's hand on John's life. Well-educated, religious and powerful leaders noticed him, sought him out to ask him questions... and they accepted his responses. Wherever John was found, God's Spirit was clearly, undeniably working in and through him - even the Pharisees sensed this. God's presence active in his life overwhelmed so that religious leaders and common men alike wondered if John just might be the Messiah himself.
John quickly and continuously denied any such claim, resolutely remaining true to what God had revealed and what he had discerned. Several times this passage refers to John testifying or confessing that he was not the Messiah... that preparing the way and pointing others to the Christ preoccupied him entirely. He discarded all personal ambition, voicing what God directed him to voice. He confessed, professed and endorsed... aligning himself and his words completely with Savior of the world. The word translated "confess" in these verses (
homologéō) literally
means "to speak the same thing, i.e. assent, agree with, confess, declare, admit."
His position prepared the people by heralding the coming of the long-awaited One.
He held open the door for infinite grace,
indisputable justice
and mercy's arrival...
...while tugging closed the curtain
behind the desperate, un-achievable
burden of the departing law
that only HE could fulfill.
And he did all of this, Jesus-sight-unseen... until one day...
The next day John saw Jesus coming toward him and said, "Look, the Lamb of God, who takes away the sin of the world! This is the one I meant when I said, 'A man who comes after me has surpassed me because he was before me.' I myself did not know him, but the reason I came baptizing with water was that he might be revealed to Israel."
Then John gave this testimony: "I saw the Spirit come down from heaven as a dove and remain on him. I would not have known him, except that the one who sent me to baptize with water told me, 'The man on whom you see the Spirit come down and remain is he who will baptize with the Holy Spirit.' I have seen and I testify that this is the Son of God." (portions of John 1)
That day, on the banks of the Jordan, John finally encountered Jesus face to face.
A lot of intimate encounters with God occurred on, in or around that river...
It wasn't like John had no experience with the divine; he prophesied and spoke to Israel for God.
But, encountering Jesus always exercises, giving practice in seeing divine.
It involves a clearer glimpse of God's plan and then realizing it is the best although often unpredictable and far more amazing than what any mere human could concoct.
Encountering Jesus cements the absolute difference between Him, the perfect man, and all other men. Encountering Jesus also cements the truth that He understands and knows and completely identifies so that He could be the perfect Lamb, sacrificed for the sins of this world. An authentic encounter with Jesus answers questions... And we are left saying, "This is the One I meant..." to any and to all willing to listen.
Those intimate encounters, the ones that deepen our experience and knowledge of Who He is, reveal His infinite complexity and deepness. John thought he knew Jesus before... after seeing Him, John's cognizance grew, becoming more complete.
Encountering Him there on the banks of the Jordan revealed that that which he thought he knew did not even amount to a mere drop in the bucket. John's words spilled out: "I myself did not know Him... but I came... that He might be revealed." Man, on his own no matter how discerning, cannot recognize Jesus. God's Spirit must reveal the Savior.
I don't have to wonder if John felt qualified for what God had called him to do. He didn't and he told Jesus as much.
Encounters with Jesus often put us in a situation where we know we haven't mastered the skills, we don't possess the qualifications, we lack important experience: in short, the task far overwhelms our capacity, endurance and desire.
John baptized Jesus that day. Imagine...
John protested, but Jesus assured him that he was the one set aside for that specific moment.
John obeyed and he tells how he was blessed: John professes, "I have seen and I testify that He is..."
John probably did not wake up that morning thinking, "Today, I'll finally see Him. I'll be the one to baptize Him and thus initiate and endorse his subsequent ministry. Good thing all these people listen to me and respect me, even if they find me curious and difficult to understand..."
Yet John undoubtedly encountered Jesus that day.
He met face to face the Lamb of God
, the Perfect Sacrifice, the One Who was and is and is to come, the One Who baptizes with the Spirit, the One Who pleases the Father...
...the Son of God.
No matter how well we already know Him or how many years we've experienced life following behind or walking side by side with Him, those treasured encounters will continue to change us. For they are...
Unexpected. U
nimaginable. And
unforgettable. In every way...
*********************************************
How have you encountered Jesus
as the Lamb of God and as the Son of God
in recent days?
this week's gratitude list:
(#'s 3288 - 3307)
new project, launching last week, and I'm super excited to be a part of it (a bit nervous and overwhelmed, too!)
Sahel's Field Day competition
all my papers graded BEFORE the weekend
listening to my girl read Stop that Ball, The Elephant Book and The Cat in the Hat
everyone finally made it back at school after this most recent season of sickness... hopefully the last symptoms will all clear up relatively quickly... and so far, those fighting round two seem to be more successful more quickly...
homemade cough syrup that really works
raw African Sahel honey - so yummy and so lovely for sore throats
littlest girl reciting the alphabet, counting to 16 and saying Bible verses
experimenting with dead load and live bottle cap load on different types of bridges... with 2nd graders
students completing on line classes and getting right to work on their next one, without having to prod
that even though the charger for my cell phone was fried, little squirt was only mildly shocked when it happened
huge power surge at our house that could have been much worse
Thing 2... our guy goat... he really is quite beautiful (can I say that about a guy) and a lot of fun to watch
two more girls jumping obstacles on horseback
this poem... and how it reminds me of my Anna girl
such lovely coolness in the mornings
Thursday night TV @ the Rec Center lounge with the fam
a dream of sleeping in until I want to wake up... even if it rarely actually happens
lemon meringue cookies... so lovely, sweet and refreshing after a hot day in the sun
Saturday night bonfires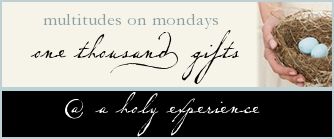 Posts in this series: