An abbreviated list this week ~ internet inconsistencies, but forever grateful
#760 Internet... Finally. Working. Again... or at least fast enough to be useful!
#761 user-friendly computer programs for the less tech savvy like myself
#762 get-togethers with lots of friends, fun and laughter
#763 forgiveness offered, apologies accepted
#764 evaporative coolers for 100'+ afternoons (and yes, this is still, hypothetically, "cool" season)
#765 pictures of snowy, winter scenes that friends are happy to share with us
#766 finding speech and language help for my little guy... here in Niger
#767 baby bed head, sleepy eyes and stumbling feet out to the kitchen table in the morning, looking for "butternjelly"
#768 puppies learning to sit and wait nicely for their food
#769 pizza pockets for breakfast
#770 raspberry, blackberry and strawberry tissane
#771 breakfast with our birthday girl and her daddy
#772 heirlooms passed to the next generation
#773 hearing about a new friend
#774 obstacle course competitions out by the Stade
#775 meditating on Psalm 23... trying to memorize it in Zarma... looking forward to ladies' Bible study this Saturday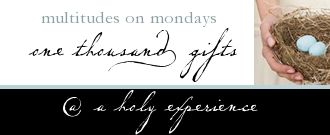 "Gratitude is a vaccine, an antitoxin, and an antiseptic"
- John Henry Jowett