Reverence
"the religious emotion par excellence..."
"a blend of wonder, fear, gratitude, and negative self-feeling"
I bet there are some who cringe reading the last part of that definition... "negative self-feeling." In a world that is consumed with self-esteem, preoccupying itself with self, fairness, rights or what is best for me... well, negative self-feeling is generally considered unhealthy, if not downright dangerous. I don't believe that is really the case for the bulk of this world's population... I'd even argue the other direction: this extensive focus on the importance of positive self-feeling is unhealthy and dangerous and a huge hindrance to anyone who seeks seriously to follow Jesus. Sadly, we Christians are not exempt from this malady. We've... I've... accepted a spirit of tolerance... calling it "grace," and then find ourselves living lives that don't look any different from those around us - in the books we read, the internet sites we browse, the movies we watch, the priorities of our days, the way we spend our money, the accumulation of things, the thoughts that pass through our minds but sound just like the words that are spoken throughout this fallen world... and sadly, the list goes on. If a Moslem Sufi mystic can "get this," - think about the meaning of these words: "Be melting snow. Wash yourself of yourself." - why is it so hard for those of us who have the Holy Spirit?
Grace is amazing; gratitude for God's infinite grace should produce reverence and holiness in our lives, not sinful tolerance and license to sin or accord welcome to its influence in our lives. O
ur flesh will never yearn to walk in holiness... without grace, without the gift of Holy Spirit power growing that desire. Nancy Leigh DeMoss discusses out six manifestations of grace, gifts God gives to help with personal tranformation and "putting on" holiness: God's Word, confession, communion, fellow believers to help look out for us and to stand together with, church discipling and discipline, suffering. I never dreamed when I began this gratitude journal that my journey would lead me here... to these realizations: 1) that the appearance and pursuit of holiness has been, for me, striving in my own strength and important to me because of what others think and not so much about pleasing God; 2) that my children's holiness has been a focus because I want to be able to say, "I did my job," I want others to be impressed with my parenting skills and because I do want them to have a deeper, more initimate and Christ-like walk with their God than I; 3) that the sins of others, the sins that darken the light of His church, do not grieve and break my heart the way they should and I often choose to ignore... and more often than I care to admit... participate.
This beginning-of-a-new-year list of things for which I'm thankful includes little glimpses from life this past week, but also dwells on God's holiness, and as David Brainard cries, the "pleasing pain" of which I am slowly becoming aware that cries for more of God's holiness in my life.
# 676 the Incarnation we just celebrated us, which shows us holiness in human form... and for the Spirit showing me how much I lack, how much I need Him to "put on" my human form, holiness
#677 that

"God, who at sundry times and in divers manners spake in time past unto the fathers by the prophets, Hath in these last days spoken unto us by his Son, whom he hath appointed heir of all things, by whom also he made the worlds; Who being the brightness of his glory, and the express image of his person, and upholding all things by the word of his power, when he had by himself purged our sins, sat down on the right hand of the Majesty on high..." (Heb 1:1-3)
#678 that

"[the Father] hath delivered us from the power of darkness, and hath translated us into the kingdom of his dear Son: In whom we have redemption through his blood, even the forgiveness of sins: Who is the image of the invisible God, the firstborn of every creature: For by him were all things created, that are in heaven, and that are in earth, visible and invisible, whether they be thrones, or dominions, or principalities, or powers: all things were created by him, and for him: And he is before all things, and by him all things consist. And he is the head of the body, the church: who is the beginning, the firstborn from the dead; that in all things he might have the preeminence. For it pleased the Father that in him should all fulness dwell; And, having made peace through the blood of his cross, by him to reconcile all things unto himself; by him, I say, whether they be things in earth, or things in heaven. And you, that were sometime alienated and enemies in your mind by wicked works, yet now hath he reconciled in the body of his flesh through death, to present you holy and unblameable and unreproveable in his sight..." (Col
1:13-22)
#679 these words, this description, this future-

"And I saw in the right hand of him that sat on the throne a book written within and on the backside, sealed with seven seals. And I saw a strong angel proclaiming with a loud voice, Who is worthy to open the book, and to loose the seals thereof? And no man in heaven, nor in earth, neither under the earth, was able to open the book, neither to look thereon. And I wept much, because no man was found worthy to open and to read the book, neither to look thereon. And one of the elders saith unto me, Weep not: behold, the Lion of the tribe of Judah, the Root of David, hath prevailed to open the book, and to loose the seven seals thereof. And I beheld, and, lo, in the midst of the throne and of the four beasts, and in the midst of the elders, stood a Lamb as it had been slain, having seven horns and seven eyes, which are the seven Spirits of God sent forth into all the earth. And he came and took the book out of the right hand of him that sat upon the throne. And when he had taken the book, the four beasts and four and twenty elders fell down before the Lamb, having every one of them harps, and golden vials full of odours, which are the prayers of saints. And they sung a new song, saying, Thou art worthy to take the book, and to open the seals thereof: for thou wast slain, and hast redeemed us to God by thy blood out of every kindred, and tongue, and people, and nation; And hast made us unto our God kings and priests: and we shall reign on the earth. And I beheld, and I heard the voice of many angels round about the throne and the beasts and the elders: and the number of them was ten thousand times ten thousand, and thousands of thousands; Saying with a loud voice, Worthy is the Lamb that was slain to receive power, and riches, and wisdom, and strength, and honour, and glory, and blessing. And every creature which is in heaven, and on the earth, and under the earth, and such as are in the sea, and all that are in them, heard I saying, Blessing, and honour, and glory, and power, be unto him that sitteth upon the throne, and unto the Lamb for ever and ever. And the four beasts said, Amen. And the four and twenty elders fell down and worshipped him that liveth for ever and ever." (Rev 5)
#680 hearing then singing these words last night:
Worthy is the, Lamb who was slain
Holy, Holy, is He
Sing a new song, to Him who sits on
Heaven's mercy seat

Holy, Holy, Holy
Is the Lord God Almighty
Who was, and is, and is to come
With all creation I sing
Praise to the King of Kings
You are my everything
And I will adore You

Clothed in rainbows, of living color
Flashes of lightning, rolls of thunder
Blessing and honor, strength and glory and power be
to You the only wise King

Holy, Holy, Holy
Is the Lord God Almighty
Who was, and is, and is to come
With all creation I sing
Praise to the King of Kings
You are my everything
And I will adore You

Filled with wonder, awestruck wonder
At the mention of your name
Jesus your name is power, breath, and living water
Such a marvelous mystery

Holy, Holy, Holy
Is the Lord God Almighty
Who was, and is, and is to come, yeah
With all creation I sing
Praise to the King of Kings
You are my everything
And I will adore You
#681 listening to big sisters make little sisters laugh... and little sisters make big sisters giggle... as they all wake up on a sleepy vacation Monday morning
#682 finally touching base again
#683 safety as they traveled to, from and within the wild game park
#684 the vivid reminder of what precious little treasures the Lord has gifted us in our children and the awesome privilege responsibility it is to care for and raise them...
#685 a sweet little girl who still likes to sit on my lap as I type just so she can be near me... and who every so often turns to give me a hug and tell me she loves me the most
#686 friends who help, without asking questions, because they hear the need in my voice
#687 big girl slumber parties
#688 early morning cups of tea
#689 steamy showers on cool mornings where little girls have their own tea for two
#690 discipling daughters
#691 a big boy who volunteers to do the dishes... even if he had other motives
#692 finding a few cans of Mountain Dew to hide in the fridge for his return
#693 Christmas songs after Christmas
#694 an amazing discussion with our pastor and his wife about future ideas
#695 property sale... the anticipation of a home, designed for our family, right by the studio
#696 friends we haven't seen for a longtime, flying in today
#698 listening to fireworks, thankful that it wasn't signs of something else, being reminded to pray for upcoming elections and peaceful government transitions in this land
#699 anticipating folks from our home church, hopefully arriving next month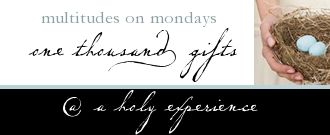 [Note: Quote at beginning by William McDougall found in An Introduction to Social Psychology (New York: Methuen, 1908), p. 132. Also, much of what I'm learning regarding holiness I've gleaned from God's Holy Word and the conviction of the Spirit, Oswald Chambers' writings and Nancy Leigh DeMoss's book Holiness: The Heart God Purifies.]