After these things there was a feast of the Jews; and Jesus went up to Jerusalem.




Now there is in Jerusalem by the sheep gate a pool, which is called in Hebrew Bethesda, having five porches. In these lay a multitude of them that were sick, blind, halt, withered, waiting for the moving of the water. For an angel of the Lord went down at certain seasons into the pool, and troubled the water: whosoever then first after the troubling of the waters stepped in was made whole, with whatsoever disease he was holden.
And a certain man was there, who had been thirty and eight years in his infirmity. When Jesus saw him lying, and knew that he had been now a long time in that case , he saith unto him, "Wouldest thou be made whole?"
The sick man answered him, "Sir, I have no man, when the water is troubled, to put me into the pool: but while I am coming, another steppeth down before me."
Jesus saith unto him, "Arise, take up thy bed, and walk."
And straightway the man was made whole, and took up his bed and walked.
Now it was the Sabbath on that day. So the Jews said unto him that was cured, "It is the Sabbath, and it is not lawful for thee to take up thy bed."
But he answered them, "He that made me whole, the same said unto me, Take up thy bed, and walk."
They asked him, "Who is the man that said unto thee, Take up thy bed, and walk?"
But he that was healed knew not who it was; for Jesus had conveyed himself away, a multitude being in the place.
Afterward Jesus findeth him in the temple, and said unto him, "Behold, thou art made whole: sin no more, lest a worse thing befall thee."
The man went away, and told the Jews that it was Jesus who had made him whole. (John 5.1-15, ASV)
Last week, I parked on the word "Arise," and the thoughts elicited by meditating and praying through that single word.
That, however, wasn't all Jesus said. He also told the man to gather up his bed, or the mat upon which he was laying, and to start walking. Getting up seemed crazy? What about balancing while standing on untried legs and leaning over after 38 years of no practice? Try picturing a high jumper successfully clearing the pole first try after nearly 4 decades of hiatus with no practice! Sure, the jumper's body might remember automatically what it needs to do, but strength, timing and even body shape has possibly changed over the years. Highly probable, don't you think, that that first attempt will not achieve success?
Yet we don't read of any hesitation or questions on the part of this man. He simply trusted and obeyed. I wonder what those first walking steps looked like. I wonder if, after standing and then picking up, he was confident that the walking would be similar and so he takes those first strides assertively? Or is he still feeling unsure and so he gingerly, timidly places one foot in front of the other, feels his foot solid and so commences a second step in similar fashion?
It probably doesn't really matter because the man trusted and obeyed. I know there are days that I trust and obey and confidently follow wherever it is that the Lord leads. But what about those other days, times when I still trust and obey yet do so continually under duress, with fear and trepidation and without complete confidence in the God I claim I trust. I believe God sees both as obedience, yet the second tears at His heart because He sees our apprehension and anxiety and He wants so much more, so differently, for me. One is obedience based on a confident feeling and closeness to
God. The second is a persistent choice... even when nothing around confirms it as the sensible decision, simply because I am committed to trusting and believing God in all circumstances. Either way, God accepts both confident obedience as well as tiptoed compliance.
As Jesus melts away into the crowd, this man then walks right into a high-power confrontation with the Pharisees. Sometimes those Pharisees seem more like bullies than anything else, so it is easy to forget that, in general, they were the respected, well-liked, good neighbor sorts of guys. Their motivations may not have always been pure in doing good... but they were the ones who, in that culture, you could count on to be generously charitable, hard workers, good neighbors, invested in the community, etc. It sobers, in fact, to recognize just how much of myself I see in the Pharisees - if I'll hold up a clean mirror to check the reflection.
Instead of being amazed and thankful for a miracle, the Pharisees only see a violation of the standard established to help keep them from falling into sin. There is nothing wrong with holding to a standard of behavior. Yet this point is particularly convicting for me, because it is easy to feel good about holding to the letter of the law rather than abiding by the spirit of the law. How often do I miss the miraculous because I'm trying to adhere to a set of rules, or because I'm criticizing (certainly in my heart if not aloud) one who hasn't kept man's added-to standards and rules? The Pharisees, sadly, completely missed the point. The Pharisees had the opportunity to encounter Jesus but they simply dismissed what He had done as outright sinful at worst... too risky and too current and too worldly at best. It challenged their world view and couldn't be contained in their box for God. Jesus wasn't meeting their expectations of what a good Messiah would look like, talk like, act like, be like... He didn't esteem the same images they did... he didn't fit their preconceived ideas...

Obviously, their ideas couldn't be wrong. After all they had tradition, the law of Moses and years of best practice on their side.
I wonder... what Jesus would look like if He came into our conservative evangelical culture of today? How would I treat him?
************************************************
What do you think?
-edited post from the archives:
original post
this week's grat
itude list
(#'s 3827 - 3853)
having a sorta free Friday morning to enjoy the habitual Five Minute Friday write and community, after so many Fridays without. I've kept up, but it hasn't been leisurely. :-)
challenged once again by looking in the mirror via the book Extreme Righteousness
(If you are interested in reading the book, check out a few excerpts here.)
little warrior princesess running like mad all over the compound
3 Musketeers: Elsie Mae, Imogen and Mary Michelle - they're gonna miss their little Aussie girlfriend - and I'm gonna miss listening to their antics most afternoons
IBBS and TriM graduation celebration
giggly boys sabotaging Minecraft games
beautiful friends, of all ages
challenged to be thinking on brave... and not believing it coincidence
that my mom can be with my grandparents when they are struggling
hoping I'll have the opportunity to be with them again, too... soon
root beer floats that really worked
best EVER apple pie on a Thursday night... just because Anna wanted to make a treat for the rest of the family (and I'm not kidding when I say best ever!)
preparing to try cucumber salsa with guacamole on the side
this refrain playing in my mind as I get tired: "little by little, inch by inch... by the yard its hard, by the inch what a cinch! Never stare up the stairs just step up the steps. Little by little, inch by inch..."
vitamin c, honey and lemon or lime juice... garlic and onions... good for you, natural stuff
getting better, making progress... every single day

ladies' night out - a great meal and some wonderful conversation
obedient teens
hard working teens
sounds of kids running and playing in the front yard, while I'm cooking dinner
Hebrews 12.2
preparing to play in the mud and sand with 2nd and 3rd graders... again
digging foundations, building walls and finding brochette sticks to be used as timbers
on line courses... almost finished
grad banquet planning finally beginning
super sweet thank you from a weekend visitor
heart shaped pancake with butters for Mother's Day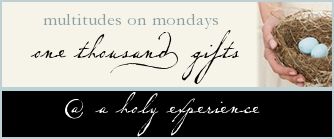 Ten most recent posts in this series:
Click
here
for all of the titles and their corresponding links in the Encountering Jesus series.