Which 2012 posts can claim the title of "Best?
Well, there are a few ways of measuring: how many views a particular post receives (some of which are spam), or how much conversation it provokes (in other words the number of comments - something has to be somewhat compelling to prompt people to actually respond and dialogue a bit based on what I've written).
Sometimes, the two do not coincide... "
There is also a third measure - one that is much more subjective... and that one includes my perception - which posts affected me the most in the writing and publishing of them?
Curiosity killed the cat. And I was curious - I've also killed a lot of time while sitting around feeling a bit on the icky side navigating my way through all those "stats" and records and old posts to compile this list my attempt to merge the above measures.
Without further ado? Voilà!
2012's Twenty (out of more than 350)
Most Popular Posts
#20
"...I'm talking, of course, about Dr. Quinn, Medicine Woman, the fictional hero of the TV series by the same name. As the heroine, she's smart, usually sophisticated, spunky, stubborn, courageous, persistent, a little bit proud, willing to learn, a respecter of people regardless, full of integrity as well as full of her own ideas of how things should be... and more than willing to work to fit them into her idealistic perspectives. Besides that, she's also beautiful, has a really handsome beau, fun and talented kids and most of the time can laugh at herself and her mistakes."
What can I say? I'm a die-hard fan! But the fact that so many of you checked out this post indicates there are others of you out there! :-)
#19
Welcome
"A gentle and quiet spirit can sincerely accept and receive thankfulness offered from the heart of another... without discounting or brushing it off, downplaying their own service as nothing. A gentle and quiet spirit has the confidence to say, 'Yes, serving you cost me something... and it was my great privilege to pay that price, to love you in such a way.'
And now I'm wondering... Does God ever say thank you to me? Does He appreciate the earthly cost (which on many days I've counted and am more than willing to pay) that obeying and following Him exacts?"
This Five Minute Friday post addresses one of those recurrent questions I'm always asking myself.
#18
We keep trying to convince them...
The most recent post in the list... Who knows? If it had been around longer, it might have crept further up the popularity scale! It's fun to see posts whose purpose is really nothing other than to prompt a smile so well liked.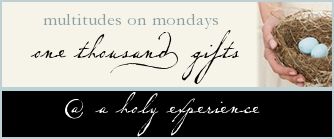 #17
Reconnecting
"Wow! I knew it had been a few weeks since my last Multitude Monday post... I didn't realize it had been nearly a month. Internet has been bipolar in this country for the last month...."
This post received several views as well as comments - probably because I'd disappeared off the scene for almost 4 weeks due to W. African Internet craziness. It was also one of my favorite "discussion" questions from the year.
"...trees must send down their tap root first. They must put that root down deep, penetrating to a more secure source of water than just daily surface watering. That deep root also helps secure the tree during storms because in sandy soil, winds can easily take out a tree with out a profound anchor. Sometimes it is easy to look at that tree and assume that nothing is happening, only because I can't see it."
This reminder that things are not always as they appear, an area where the Lord was convicting me, seemed to touch a chord in others as well.
#15
"...She doesn't let me gripe and complain about my husband... she'll listen and then say something that softly points out where my thinking was wrong all along or remind that I need to be gracious. Times when I'm feeling overwhelmed-discouraged-totally out of my league, her typical first response is to pray and trust - so unlike my internal kicking and fighting and fearfulness."
The presence of this post on the list both surprised and delighted me. These words truly come from the heart... I wish each one of you could have a friend like this dear lady.
#14
I love that my oldest is a thinker and a dialoguer... We had some great conversation provoked by this John MacArthur quote: "We should not be entertained
by the sins
for which Christ died." Convicting quote, isn't it?
#13
Wide
"Aren't those wide, bright orange eyes phenomenal? They belong to a northern white-faced Scops owl, that we've recently had living with us. A friend told us that one of the markets in town had it in a cage for sale - and that it was looking pretty traumatized. Brendan asked, told us he had the money - and so Tim took him to get it. This is the second time our oldest has tried to raise/rehabilitate one..."
#12
#11
#10
#9
#8
"I remember so clearly traipsing down the stairs, thinking I was dressed to kill and lookin' pretty chic... and hopin' I wouldn't make eye contact with Mom? 'Cause I knew if I did, I'd be plodding back up those stairs and trudging down the hallway, probably slightly slamming (if I really did, I'd be back downstairs, practicing it again while demonstrating the "right" attitude) the door, sequestered until I removed some make-up, changed my clothes, 'did something normal' with my hair or some combination of all three. I was usually rolling my eyes and muttering as I trudged. Now? Years have gone by and how the times have changed! Now I'm the one with teenage daughters (and a niece on loan for a year)."
#7
#6
"Back in September, I sat in on what has to be, hands down, one of the best English Lit classes...... EVER! God knew I needed it, too - it came nipping on the heels of one of those "terrible, horrible, no good, very bad I-think-I'll-go-to-Australia" sorts of days. I don't actually teach English Lit and I'm not working on any additional degrees - so why was I hanging out in a tenth grade English Lit class?..."
#5
Feisty adorableness -
ornery obstinance -
annoying arrogance -
captivating confidence -
charming cheekiness...
How could I confine you to stay now, in this moment?
For you are dreaming of the future...
an amazing woman-to-be...
#4
#2 & #3
#1