Chameleons were one of those things we loved about Niger. Such fascinating little (and sometimes not so little) critters who were not just entertaining but downright amusing to watch. T
hey are, however, temperamental
and wear a perpetual frown that easily turns into a scowl when they don't like what is happening in their little piece of the world. After the scowl, comes a low-pitched, grumbly-rumbly growl that becomes a full-fledged, open mouth, aggressively loud and scary hiss when provocation continues.
"Chameleon!" immediately popped into my mind as I dove back into studying this passage this week.
"Stop grumbling among yourselves," Jesus answered. "No one can come to me unless the Father who sent me draws them, and I will raise them up at the last day. It is written in the Prophets: 'They will all be taught by God. Everyone who has heard the Father and learned from him comes to me. No one has seen the Father except the one who is from God; only he has seen the Father. Very truly I tell you, the one who believes has eternal life. I am the bread of life. Your ancestors ate the manna in the wilderness, yet they died. But here is the bread that comes down from heaven, which anyone may eat and not die. I am the living bread that came down from heaven. Whoever eats this bread will live forever. This bread is my flesh, which I will give for the life of the world."

Then the Jews began to argue sharply among themselves, "How can this man give us his flesh to eat?"

Jesus said to them, "Very truly I tell you, unless you eat the flesh of the Son of Man and drink his blood, you have no life in you. Whoever eats my flesh and drinks my blood has eternal life, and I will raise them up at the last day. For my flesh is real food and my blood is real drink. Whoever eats my flesh and drinks my blood remains in me, and I in them. Just as the living Father sent me and I live because of the Father, so the one who feeds on me will live because of me. This is the bread that came down from heaven. Your ancestors ate manna and died, but whoever feeds on this bread will live forever." He said this while teaching in the synagogue in Capernaum. (John 6:43-59)
I still find it amazing that Jesus declares to the crowd of Jews Who He is and what He plans to do... and they're only response is to grumble. And just as I'm starting to feel a little holier than thou and patting myself on the back, the Holy Spirit whispers in my heart, "What would you have done? What would you have said?" For the words Jesus says here are strange, even difficult to wrap my mind around, especially if I'd never heard anything like them ever before. I mean, they're hard for me right now, today, having grown up with them and biblical language and having fingertip access to commentaries and the wisdom and perspective of others who've wrestled with these words throughout the centuries.
Jesus immediately addresses this sinful behavior. He tells them to stop grumbling... among themselves. Last week, I discussed the fact that I believe grumbling in my life is always sinful. I know in my heart that it is evidence of my lack of contentment and an unhappy spirit that I blame on how God is working in my life. So I talk to others about Him (although sometimes it is very carefully veiled) or about others He's allowing me to have contact with like I wish He'd just keep His nose out of my business.
I'm pretty sure that the Lord would much rather me bring my complaint directly to Him rather than proclaim my unhappiness to anyone else who will listen. The Psalms are full of heavy hearts pouring themselves out to God, asking Him for favor, begging Him to change or fix something.
Jesus unequivocally tells His listeners to stop grumbling... and this command, also found elsewhere in the New Testament, really only reiterates what God had already told His people many times before in the Old Testament. These are only a few of the dozens of verses I could have included that discuss God's opinion of grumbling, murmuring, complaining...
Nor let us try the Lord, as some of them did, and were destroyed by the serpents. Nor grumble, as some of them did, and were destroyed by the destroyer. Now these things happened to them as an example, and they were written for our instruction, upon whom the ends of the ages have come... (I Corinthians 10)

You too be patient; strengthen your hearts, for the coming of the Lord is near. Do not complain, brethren, against one another, so that you yourselves may not be judged; behold, the Judge is standing right at the door. As an example, brethren, of suffering and patience, take the prophets who spoke in the name of the Lord.… (James 5)

and that He has brought you near, Korah, and all your brothers, sons of Levi, with you? And are you seeking for the priesthood also? "Therefore you and all your company are gathered together against the LORD; but as for Aaron, who is he that you grumble against him?" (Numbers 16)

…So Moses and Aaron said to all the sons of Israel, "At evening you will know that the LORD has brought you out of the land of Egypt; and in the morning you will see the glory of the LORD, for He hears your grumblings against the LORD; and what are we, that you grumble against us?" Moses said, "This will happen when the LORD gives you meat to eat in the evening, and bread to the full in the morning; for the LORD hears your grumblings which you grumble against Him. And what are we? Your grumblings are not against us but against the LORD."… (Exodus 16)

But some were indignantly remarking to one another, "Why has this perfume been wasted? "For this perfume might have been sold for over three hundred denarii, and the money given to the poor." And they were scolding her. But Jesus said, "Let her alone; why do you bother her? She has done a good deed to Me. (Mark 14)

Now all the tax collectors and the sinners were coming near Him to listen to Him. Both the Pharisees and the scribes began to grumble, saying, "This man receives sinners and eats with them." So He told them this parable, saying,… (Luke 15)
Grumbling seems to be the default mode of fallen men and women. We don't like what happens so we make sure we let someone know.
No one will come, till Divine grace has subdued, and in part changed his heart; therefore no one who comes will ever be cast out. The gospel finds none willing to be saved in the humbling, holy manner, made known therein; but God draws with his word and the Holy Ghost; and man's duty is to hear and learn; that is to say, to receive the grace offered, and consent to the promise.



It is easy to hear... or read... Jesus' words and think, "Huh? What in the world is He talking about?" Spiritual things aren't always straightforward and easy to understand, because they always require the work of the Holy Spirit for them to make sense. There's good news and bad news in that: When the understanding is there along with the desire to apply in my life, it is clear evidence of the Holy Spirit active and involved in my heart, mind, soul; on the other hand, when I try and get it to make sense in "the world according to me," it gets convoluted and difficult or just downright bizarre and when I find my spirit sinfully grumbling because it seems to hard to understand, frustrating to do or to impossible to apply - it is a pretty sure signal that I need to get my heart right with God....
this week's grat
itude list
(#'s 4150 - 4181)
an AWESOME Labor Day weekend
grilled veggies... barbecued pork ribs... pancakes (BLUEberry) ... swiss steak... smashed potatoes... breakfast casserole... so much yummy...
frequent texts from our boy... and he seems to be doing great!
brave teen girls staying in their tent, in the woods, all night long
bike rides + puppies + friends + snakes + hunting at the dam = fun
backpacks packed and ready
high in the 60s
little ones make believe games running wild
relatively first week of school
getting worked in at the dentist and a mostly easy fix
afternoons with cousins playing together
date night with hubby, even if it is only a shopping trip to Saginaw
2 bushels of tomatoes put up
2 bushels of apples soon to be made into apple butter and canned
fresh fruit left on the doorstep
exciting volleyball tournament
unexpected mid-week, mid-afternoon snuggly sieste with the littlest Wrightling
first week of classes done
time to play with her cousin every afternoon
cool mornings
turtlenecks to wear on those cool mornings
natural light instead of artificial light
seeing my friend's soon to be completed house
grandparents, aunt, uncle, cousins making the effort to come and watch the girls' games
more hours at work
privilege of praying that God provides a job for her soon and the lessons she learns as she waits and continues searching
watching our shy one find her way in a new situation with so much more comfort, confidence and ease than we've ever seen before
working on prayer card and presentations and scheduling meetings... it is all coming along
quiet mornings and projects to do getting done
reading some challenging blog posts
missing my boy and loving hearing from him and delighting in all the good things he's sharing... hoping he's really as happy as he sounds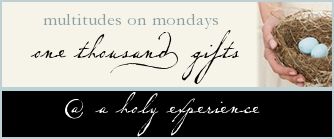 Ten most recent posts in this series:
Click
here
for all of the titles and their corresponding links in the Encountering Jesus series.