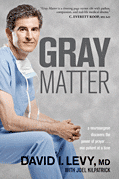 Aneurysm... CAT scan... brain surgery... neurosurgeon...
Words that, if you hear them applied to yourself or one you love, are sure to strike fear in your heart.
But for Dr. David Levy, they are a part of his daily life as a well known and highly respected neurosurgeon.
In recent years, Dr. Levy decided he was going to add another word to that list - one that many of us might automatically add ourselves, but might be surprised, even astounded, to find a confident, highly trained and competent surgeon including. Dr. Levy bravely began authentically and radically living his faith before the eyes of his patients, their families and fellow medical professionals: he began asking for permission to pray with them prior to surgery and during appointments. He prayed for spiritual insight and wisdom before interacting with his patients and sometimes the Holy Spirit would reveal problems (unforgiveness, bitterness) which might never be resolved while a patient was under anesthesia... spiritual problems that needed to be acknowledged and dealt with biblically. And thus, Dr. Levy eventually began offering, when appropriate, not simply surgical solutions, but spiritual ones, guiding his patients through prayers of forgiveness and the releasing of bitterness and even sometimes, he was privileged to lead a patient through the prayer of salvation.
Dr. Levy discovered that prayer not only allowed peace to reign in tense, difficult and life-threatening situations; it also continually reminded everyone involved that God is always in control and that His decisions, while not always easy to accept, are always good, all of the time. God is sovereign - not just in the operating room, but in all areas of life and peace pervades when we acknowledge our dependence on Him.
In his own words, "Does everyone I pray for get better? No, and that is frustrating. I'm still waiting to receive that magic wand doctors are supposed to receive with their licenses to practice medicine. But I have seen many positive results from prayer, and I'm convinced they go beyond any physical or psychological explanation. Not only have people's brains been healed, but many people have been released from shackles of bitterness, anger, and resentment, which can be the root cause of serious physical problems. I have discovered that God sees teh whole person, not just the particular problem that is flaring up in his or her head. Patients generally appreciate being seen as more than their medical problems.... Neurosurgery, like life itself, is full of surprises. No surgeon, not even the most highly trained, can save a life alone. During... dramatic procedure[s] I was reminded that the outcomes of procedures, and of our very lives, are ultimately in God's hands. He wants to be involved in the details of everything we do, nomatter our position or profession. My practice and my life have been transformed because I have learned to pray with my patients. In the beginning the risk seemed high, but it was meager compared to the gain. I have learned firsthand that, as radiant sunlight melts away fog, God infuses lifegiving hope into the darkes circumstances. If we look for him, we will find him, and the journey will be amazing."
Dr. Levy's journey is found in his book, Gray Matter. I was challenged as I read - by the persuasiveness of our culture in convincing us that we are the ones in control, how that easily becomes an issue of sinful pride, and how peace results when we give up trying to control outcomes and begin trusting the One and Only who can, accepting His plan and His choices.
Disclosure of Material Connection: I received this book free from

Tyndale

as a part of their Book Review Blogger program. I was not required to write a positive review. The opinions I have expressed are my own. I am disclosing this in accordance with the Federal Trade Commission's 16 CFR, Part 244: "Guides Concerning the Use of Endorsements and and Testimonials in Advertising."