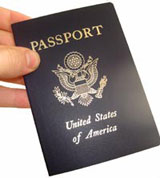 This is a huge answer to prayer, and we want to thank all of you who joined us in praying for a smooth and rapid application process for Mary Michelle's passport...
...as her passport arrived in the mail on Thursday. I'm finding it hard to believe after some of our other nightmarish applications for newborns - but am overjoyed! We know this is 100% due to the graciousness of our God, and also because so many have joined us in praying that we wouldn't run into problems or delays as we went through this process.
There are so many ways we've seen God's hand, even in this little detail:
One of the county clerk employees told me exactly what to do so that I was able to get her birth certificate after only 3 days instead of the normal 3-4 weeks that all the hospital paperwork tells you to expect.

When we went to the US Post Office for her passport photos, the man taking photos that day was a friend of ours from one of our supporting churches, and the Post Office staff were very kind and patient as we worked for nearly 45 mintues to get a photo of Mary Michelle with eyes mostly open and both ears visible.

There were NO lines in the different offices, so we were able to keep moving right along.

Her expedited passport arrived in less than half the time expected (with the added bonus of her social security card also arriving - they told us 6-8 weeks before we should expect that!).
Now, we just need to take care of her plane tickets and Niger visa. After 45 minutes on hold with Air France yesterday, I had to give up for the moment - but will be listening to their really strange "on hold" music again today when I call to add a lap child to our traveling reservations. It is so exciting and relieving - all at the same time - to see these little, but very important details being cared for by our God!
Thanks for those prayers... and keep on praying!