In fourth grade and horse crazy, Ellie thinks... dreams... lives horses. In fact, much to the amusement of her entire class, her recently announced "science" experiment at school is determining the most effective way of convincing parents to get their girl a horse: begging, crying or praying. That's when a shaggy, skinny, spotted pinto running lost and distressed down the road causes her trouble at school while galloping straight into her heart. But will Ellie even recognize this as the answer to her prayers?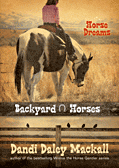 Horse Dreams by Dandi Daley Mackall is one of those almost perfect little girl/tween horse stories. Although the plot is predictable and the "stars" of the story are stereotypical, it is a quick and uncomplicated read including amusing, humorous personalities that will encourage any girl who has ever dreamed of having her own horse to keep on dreaming and imagining and most of all, praying... And what little girl (and sometimes big girl) doesn't have that dream at some time in her life?
I enjoyed the book well enough that, without hesitation, I'd pick up additional ones in the series, and I'm certainly looking forward to passing it along to my own horse crazy tweens and little girls who are always looking for another good horse story to devour.
Disclosure of Material Connection: I received this book free from

Tyndale

as a part of their Book Review Blogger program. I was not required to write a positive review. The opinions I have expressed are my own. I am disclosing this in accordance with the Federal Trade Commission's 16 CFR, Part 244: "Guides Concerning the Use of Endorsements and and Testimonials in Advertising.