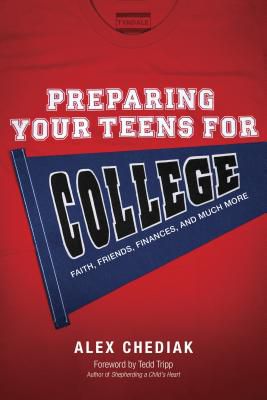 I wanted to read this book, for obvious reasons. I've one who, at the time I received the book, was completing his freshman year and then we've got seven more in line who will, most likely, someday be entering this world of post-secondary school education. My husband and I had already discovered that the struggles our son was experiencing and the ones we'd expected didn't always overlap, and I was hoping this book could give some insight.
I can't say that
Preparing Your Teens for College
by Alex Chediak did that, exactly. Rather, what it did do was reassure me that there isn't a formula where you punch in some values to replace some variables and the outcome is a nice, neat and tidy equation that is easily solvable. Raising kids is a learning experience - for both child and parent - and I think key to successful navigation of this time period is recognizing that success is movement towards a goal, even if the goal itself is not immediately achieved.
It is different from other materials out there that talk about getting kids ready for college. Many of those focus on things like making sure your child knows how to do his/her laundry, preventing unwanted pregnancy or disease, ways to ensure academic success or developing a plan for avoiding the dreaded freshman fifteen... This book is different. It is set up as a guide for a series of conversations... discussions, if you will... that need to occur between parents and fledgling son or daughter about ready to fly the nest. Eleven conversations structured around things like character, faith, relationships, finances, academics, the college decision are the meat of this text and one idea that is clearly driven home in this book is that "thriving at college begins in the home" as well as in confident and comfortable relationships between parent and child where hard things can be discussed and challenged and even disagreed. For me, one of the most encouraging results of reading this book was not as a "guide" for what we need to do with the rest of the kids, but rather a confirmation that the hard talks we were already having, whether they fit into these specific categories or not, were important and had us on a good track.
At the same time, I think it is also key to remember that just having these conversations and feeling comfortable with the outcome of them, while a possible predictor of a young person's success at college, does not guarantee a parent's desired outcome...
As I reflect back on my son's first year of college, there were moments of great encouragement where I could see that he was getting it, was learning some hard lessons and was growing as a result. There were other moments where I was tempted to panic and wondered if we might be losing our boy. In the end, I keep turning back to the fact that we've got a great relationship with him, I think he genuinely loves and respects us as well as values our input, but that he is becoming his own man and that we need to trust God and His Spirit to continue shaping, molding and growing our boy - just as He already
has.
This book is definitely worth the time investment as long as readers don't expect a formula for guaranteed success.
********************************************************************
Disclosure of Material Connection: I received this book free from the publisher through the Tyndale's book review bloggers program. I was not required to write a positive review. The opinions I have expressed are my own. I am disclosing this in accordance with the Federal Trade Commission's 16 CFR, Part 255.