Books! It's one of the things I LOVE about summer! My kids sit around reading books... Two discovered all my Nancy Drew mysteries from way back when and are almost through the entire series. Another has discovered Father Tim! But one of the best perks of all this reading going on is that I have more time to relax with a good book as well.
A few years back, I began participating in a couple of the different blogger reading programs where I'm given a book from one of the publishing companies in exchange for posting a review on my blog as well copying, pasting and publishing the same review at one of the online bookstores.
My most recent read is Evergreen, by Susan May Warren. It is a novella... so it was a super quick read. I think I finished it in an hour and one-half in one afternoon. John and Ingrid Christiansen are about to embark on their first holiday season as official empty-nesters. John wants to surprise his wife with the trip of a lifetime, a celebration of this new phase of life and the opportunity to really invest in each other and their marriage once again. Ingrid, however, is grieving the many changes and nursing an angry, bitter spirit. John notices his wife's sadness, but figures that this trip will fix it, just as he's always been able to fix everything in the past. If only life were that simple...
A series of unexpected happenings, including beginning a relationship with the nephew they didn't even know existed, brings old hurts to the forefront of their relationship and they both realize that their marriage is balancing, but only just so... and doing so precariously at that. Ingrid ends up, at the last minute, playing the character of Mary in a living Nativity scene sponsored by her community... and as she does so, she can't escape this thought: "Maybe, however, you're Mary, and God is simply asking you to be willing to say yes to whatever He asks."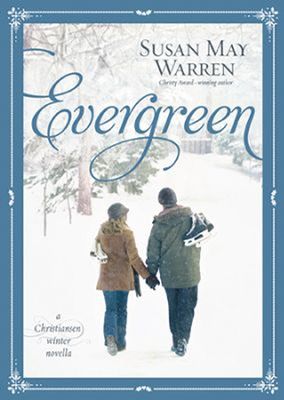 It was, for me, a poignant read with a real life lesson... on many levels.
Although I don't typically enjoy "romance" novels, I do like stories about people who seem real enough that I can identify with them. I could, with the characters in this story... This novella is part of the larger (and still unfinished) Christiansen family series. I believe each book is supposed to be a stand alone work. But that was the only annoying part of this novella, from my perspective. The necessary "background" info to help make sense of the story, information that has been covered already in previous books, didn't integrate super well, which made the book a little hard to really get into reading... at first. Thankfully, that didn't last for long.
If you are looking for a quick but not completely light summer read, especially on a sticky summer day when nothing sounds better than the cool of winter, I'd definitely recommend this one.
According to guidelines from Federal Trade Commission, I received a complimentary copy of this book through Tyndale House Publishers in exchange for an honest review.